Minister Wolf learns about "MaxWater"
Visit to the Max Planck Institute for Polymer Research
During his almost two-hour visit to the Max Planck Institute for Polymer Research (MPI-P), Prof. Konrad Wolf, Minister for Science of Rhineland-Palatinate, informed himself about the institute's research. The research initiative "MaxWater", which spans several institutes and examines the properties of water from different scientific disciplines, was of particular interest.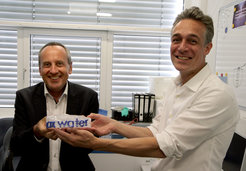 On July 30, 2019, Science Minister Prof. Konrad Wolf visited the Max Planck Institute for Polymer Research. After introductory lectures by the directors Prof. Mischa Bonn and Prof. Hans-Jürgen Butt, the Minister was able to gain insights into current research topics during a laboratory tour.
The focus of the visit was the cross-institute research program "MaxWater". In this initiative, Max Planck Institutes conduct interdisciplinary research on the physical, chemical and biological properties of water. In addition to the MPI-P, which coordinates the program, the MPI for Chemistry, the MPI for Colloids and Interfaces, the MPI for Biophysics and the Fritz Haber Institute are involved.
"Water is one of the most abundant, yet poorly understood liquids on earth", says Mischa Bonn, coordinator of the project. "That's why we founded MaxWater, which investigates water across various disciplines: From atmospheric research to biophysics".
Science Minister Prof. Wolf was enthusiastic about the research at the institute: "The Max Planck Institute for Polymer Research conducts top international research. The investigations of water show that the everyday liquid is not yet fully understood and that a focus such as MaxWater is needed to investigate different water-related topics in an interdisciplinary way."