University of Amsterdam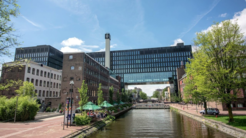 The University of Amsterdam (UvA) has a long history. It evolved from the Athenaeum Illustre (founded in 1632) and is now one of the largest comprehensive universities in Europe, with about 30, 000 students, 8,000 employees and a budget of €850 million.

At the University of Amsterdam, teaching and research are organised within seven faculties: Humanities, Social and Behavioural Sciences, Economics and Business, Law, Science, Medicine and Dentistry.
The University of Amsterdam is an intellectual hub with over 30,000 students, 3,000 PhD researchers, 6,000 staff and 100 different nationalities. Our mission is to educate tomorrow's leaders, conduct cutting-edge research and translate our research results into applications that can benefit society.